TRANSPORT, PAYMENT
The main currency of the e-shop is EUR. Other currencies - CZK / Czech Republick, GBP / Great Britain , USD / Amerika and CHF / Switzerland are always converted at the daily rate of 1€. The currency is selected according to the country of your choice.
VAT for end customers is calculated according to the VAT rates set by the individual EU countries.
We transport shipments to EU countries and third countries with carriers FEDEX, DPD, Zásilkovna.
You can pay using Global Payments or STRIPE payment gateway.
You can use Clic to Pay payment on our e-shop.
---
Food supplements INETHAN - detoxification of the organism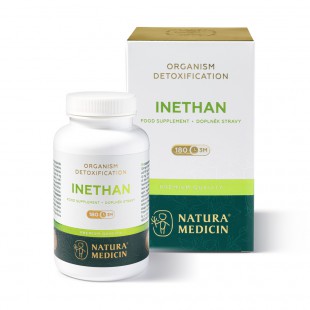 165.00 €
Ex Tax: 165.00 €
The line of dietary supplements "TREE OF LIFE."
1 PACK / 180 CAPSULES / 3 MONTHS OF USE
INETHAN contributes to body detoxification.
Ginseng supports vitality, boosts energy and fights fatigue.
It contributes to natural defence and supports immunity. It helps maintain normal sexual functions and maintains normal levels of blood sugar when used as part of a healthy lifestyle. Mongolian milkvetch supports the function of the excretory system and has significant stimulating toning effects. Calamus has refreshing effects, supports intestinal function and helps maintain balance in your stomach and intestines. Dandelion has a positive effect on the function of the liver, stimulates the excretory system and contributes to body detoxification. Tribulus terestris helps clean your blood and maintain normal levels of iron. Couch grass contributes to the excretory functions of the kidneys and supports detoxification mechanisms. Hawthorn improves peripheral blood circulation and oxygen transport and supports the function of the heart. Common club moss helps maintain the normal function of the urinary system.
Ingredients: Panax ginseng root extract 54mg (corresponds to 162mg of dried root), Mongolian milkvetch root extract 50mg, hyaluronic acid 45mg, calamus root extract 25mg, common dandelion root extract 20mg, Tribulus terrestris fruit extract 20mg (corresponds 200mg of dried fruit), couch grass extract from rootstock with stem 20mg, hawthorn leaf and flower extract 20mg (corresponds to 60mg of dried leaves and flowers), common club moss leaf extract 20mg, anticaking agent: magnesium stearate. Vegetable capsule coating: hydroxypropyl methylcellulose
Recommended dosage: 1 capsule twice a day (morning and evening)
Content weight: 67 g (180 tobolek)
DOPRAVA, PLATBA
Hlavní měnou e-shopu je EUR . Ostatní měny - CZK / Česká republika , GBP / Velká Británie , USD / Amerika a CHF / Švýcarsko jsou vždy přepočítávány denním kurzem 1 € . Měna se vybírá podle země, kterou si vyberete.
DPH pro koncové zákazníky se vypočítává podle sazeb DPH stanovených jednotlivými zeměmi EU.
Zásilky do zemí EU a třetích zemí přepravujeme dopravci FEDEX , DPD , Zásilkovna .
Platit můžete pomocí Global Payments nebo platební brány STRIPE .
Na našem e-shopu můžete využít platbu Clic to Pay .
---